Grasshopper pose with Andrea Robertson
A massive power pose, grasshopper has it all. It's a twisting, arm-balancing, hip-opening, and major arm-strengthening pose all in one!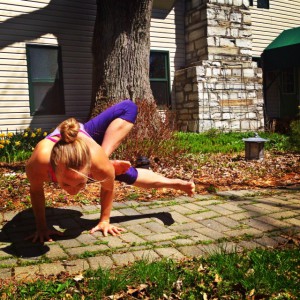 I just finished leading a group of 22 amazing women this past weekend for a Women's Wellness Retreat at Shanti. I am still feeling the effects from the weekend, the awakening felt from all as we grew strength from one another, shared joy, laughter and much needed moments of stillness. I feel complete gratitude toward the Shanti family and the outstanding group of strong women who attended the retreat.
My featured pose is called Grasshopper, a strong pose intended to open the hips, spine and draw strength from the core and upper body. Grasshoppers are seen as symbols of good luck and happiness, it is seen as a sign of nobility. Grasshopper's have a knack for seeking out warmth and light and knowing just when to jump so they can be symbols of knowing when to trust yourself and take a chance that will propel you forward. Another feature of a grasshopper is that they have an organ in their front legs that let allow them to locate things by sound vibration, which would be another metaphor for listening to your inner voice. Try a new venture, take a leap and jump forward, grow and embrace change.
About the Author
Andrea Robertson, founder of Body and Balance, provides group and personal fitness plans, group and private yoga classes, and she teaches and trains at numerous locations around the city of Ottawa. Andrea offers several retreats a year in Canada at Shanti Retreat and around the world.