Twisted Roots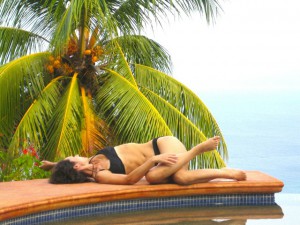 Twisted Roots relaxes tension in the muscles and meridians. It is one of our favorite poses to end a yin yoga practice or a more active yang yoga practice, as it relieves any strains or kinks in the body, and prepares you for a deep yoga nidra, or guided relaxation.
In this variation of Twisted Roots, Lesli brings her right leg over the left and then brings both legs to the right in the knee down position. For an easy pose, the left foot can remain on the floor. For a deeper twist both feet can come off the floor by lifting the knees toward the chest and then rotating the lower body into the pose.
You can experiment with how high the knees are drawn up and how to place the arms in order to vary the effect of the twist on the torso and spine. In this pose, Lesli's right arm supports her legs, while the left arm stretches out at shoulder height, or at a diagonal near the ear. For an easier pose on the shoulder, the arm stays near the body palm up.
Hold the pose a minute for beginners, or more for advanced practitioners. Repeat on the other side. Be aware that twisting can challenge the spinal discs. If you have a disc injury, consult your medical professional before practicing yoga or other physical exercise. Enjoy deep breathing throughout your practice.
Namaste,
Ken and Lesli
Thank you to Ken and Lesli for an amazing retreat weekend, April 26-28, 2013
Ken Nelson, PhD, is a senior Kripalu program director dedicated to transforming the ways we
serve and lead through yoga, mind-body practices, and the wisdom traditions. His CD Yin Yoga
and NEW Guided Relaxation (Yoga Nidra) series are Kripalu best sellers.
Lesli Lang has a performing arts background and a lifetime of yoga and meditation. She leads
retreats and workshops worldwide and enjoys supporting people in their quest for authenticity,
freedom and full self-expression.