Headstand (Sirshasana): a whole new way of seeing the world!
Headstand, and inversions in general, are seen as one of the most important groups of asanas. Performing headstand includes many physical and energetic or pranic benefits.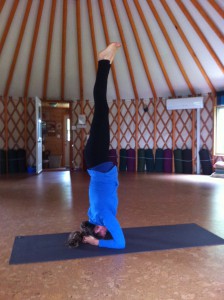 As humans beings, we spend so much time standing on our feet, so when performing headstand, we begin to reverse the effects of gravity on our body. On a physical level, the inversion increases blood flow from the lower extremities of the body (feet) to the higher ones (brain). This increases the amount of oxygen that is being delivered to the brain and stimulates glands (pituitary and hypothalamus glands) important for mood, energy levels and overall well-being. As an extra bonus, this all happens with little effort from the heart which is so designed to pump blood upward to the brain.
Headstand also improves circulation and digestion and strengthens the arms and upper body. Headstand can cultivate a greater sense of self-confidence when practiced regularly.
On an energetic level, as energy and life force is carried from the lower chakras to the higher chakras, a sense of clarity and concentration may follow. This is also a great way to bring energy from the lower parts of our being, to the heart, third eye and crown. When headstand is held for longer duration (3-5 minutes), you may begin to experience deep sense of stillness and calming of the mind.
About the Author
Lacey teaches yoga at Shanti Retreat for programs such as mid-week getaway, Sunday Cycle and Stretch as well as  Spa and Detox Days. She is traditionally trained in the Sivananda yoga style, yet draws upon various styles and includes teachings from inspiring instructors during her classes.