Vajrasana – diamond / thunderbolt / adamantine pose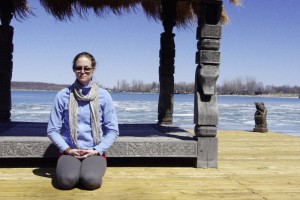 Mona Warner, ERYT500, CYA-E-RYT500
Janati Yoga School, RYS500, CYA-RYS500
www.janatiyoga.com
After about 10 years of doing yoga, I started to get pain in the back of my hips. Turns out that for those who sit in chairs for years and then start to do yoga, this is a common challenge. We go from sitting in chairs, to sitting cross legged on floors which can aggravate the S-I joints. S-I stands for "sacro-illiac", and is where the sacrum connects to the ilia. There are two SI joints; one on the right and one on the left hand side of the back of the pelvis.
I realized that I needed a new meditation posture so that I could focus on something other than the discomfort in my hips. This is when I be-friended vajrasana.
I like to get into Diamond pose from kneeling. I bring my big toes together, then sit my hips back to my heels. I stack my shoulders above my hips and lengthen my spine in between. I like having my hands in my lap, so my shoulders can relax. I find it easier to maintain a neutral spine in this shape.
I appreciate the simplicity and stability of this shape, especially during times of transition. It allows me to feel steady, grounded and centered amidst the changes and glorious chaos life brings my way. The idea behind the name is that we are strong and steady like a diamond or adamantine. The posture is thought to strengthen and stabilize both the body (especially from the belly down to the ankles and feet) and the mind.
Modifications include:
– using a block between the ankles to take the weight of the pelvis and torso off the joints of the legs and feet
– using a folded blanket between the thighs and calves to reduce the pressure in the knees
– kneeling on a folded blanket with the tops of the feet off the blanket to reduce pressure in the ankles
– using a small cushion in the laps to support the arms and relax the shoulders
Like all poses, this one isn't for everyone. However it is definitely worth an exploration. I hope you enjoy it as much as I do!
——
Mona Warner – Spring Retreat weekend with Yoga  Nidra
April 5th -7th, Shanti Retreat, Wolfe Island