This past weekend we were blessed to offer a Journey Dance and Expressive Arts Retreat with 2 great facilitators, Diane and Nicole. Guests also had the opportunity to enjoy morning yoga classes with Wendy. Read below as Wendy explains the various benefits of Halasana.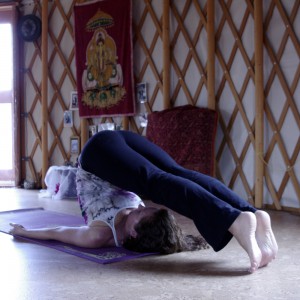 Halasana, or the plough pose, has so many wonderful benefits and is one of my personal favourites.
As an inverted asana there is the benefit of reversing the flow of blood in the body, increasing blood supply to the head and all of the glands located there. You are also reversing the effects of gravity on the body and therefore some yogis claim it is an anti-aging pose.
There is also the benefit of keeping the spine healthy and flexibility which is vital for one's overall level of health and longevity. As well, there is the very beneficial effect that the pose has on balancing the thyroid gland.
From an energetic perspective, in the Agama Yoga tradition, halasana works on ajna cakra; the mental command centre of one's being. Working with this chakra has the potential to improve clarity, concentration and focus of the mind.
With so many incredible benefits, it is no wonder the yogis consider halasana a powerful addition to one's hatha yoga practice.
If you are new to the pose start slow; be mindful and aware of your body while performing it. In the beginning you may need to modify your performance. As you become more comfortable, increase the length of time you spend it. Perhaps working up to holding for 5 minutes.
Afterwards, pause and savour both the physical and energetic benefits.
Om Shanti, Shanti…..
MoonDance and Expressive Arts Retreat with Diane, Nicole and Yoga with Wendy
October 4th – 6th, 2013