By Lacey Budge
I love being creative in the kitchen especially when it means turning leftovers into a new masterpiece or experimenting with recipes when you really have to use something up. In my case today, it was too many bananas. I made muffins, banana chips in the dehydrator and froze the rest in freezer bags to have on hand for smoothies. My inspiration came from a recipe in the cookbook, Refresh, but as always, I felt the need to add my own touch!
This recipe is delicious, made with organic spelt flour and has no sugar- sweetened with dates and bananas. I also love the crunch of the walnuts.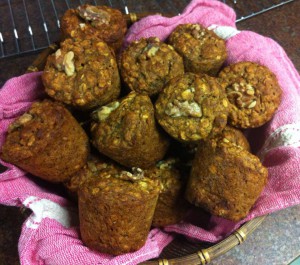 Ingredients
1 cup dates
6 ripe bananas, blended
2 cups rolled oats
4 cups spelt flour
3 1/4 tsp baking powder
1 tsp baking soda
1.5 tsp sea salt
2 tsp cinnamon
1/2 tsp nutmeg
2 tsp vanilla extract
1/2 cup coconut oil
1/2 cup apple sauce
1 cup walnuts
Instructions
Preheat oven to 325 F. Coat muffin tins with coconut oil.
Soak dates in 1 cup of warm water for 10 minutes. Blend dates with water until smooth. Add bananas with up to 2 cups of water, blend until smooth.
In a large mixing bowl, combine oats, flour, baking powder and soda, sea salt, cinnamon, and nutmeg.
In a sauce pan, on low heat, melt coconut oil if required. In a separate bowl, combine oil, apple sauce, vanilla and banana-date puree.
Add wet ingredients to dry as well as the walnuts. Mix until flour is just combined.
Scoop 1/2 cup of batter per muffin into the tray. I like to place a walnut on top of each muffin as a nice treat (and decoration).
Bake for 40 minutes or until a toothpick comes out clean (the best test!). Cool for 10 minutes.
Best enjoyed straight out of the oven as an afternoon snack or in the morning for breakfast with some almond butter.
About the Author
Lacey Budge
Lacey is a Registered Holistic Nutritionist, Yoga instructor and manager at Shanti Retreat, located on beautiful Wolfe Island. She is always looking for unique, wholesome and creative recipes for the Shanti menu. Lacey loves all things food including experimenting with raw food, seeking out local ingredients, spending time harvesting in the garden and of course sharing food with others. Any meal prepared with love is a good one!