It doesn't get much better than being surrounded by friends, enjoying nourishing food and practicing restorative yoga – all in honor of Earth Day, on Monday April 22nd.
Our Earth Day celebration was an opportunity for us to share with the community what matters to us most:
~Seasonal, organic, wholesome meals prepared with love, joy and gratitude;
~A yoga practice that allows us to open our hearts and connect with our Divine Self;
~Our love for the environment and everything natural
The meals at Shanti are always nourishing and delicious, but what was extra special for Earth Day was the 4 course "EARTH-AIR-WATER-FIRE" menu.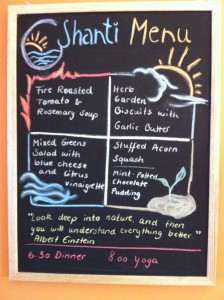 The FIRE element was a Fire Roasted Tomato-Mushroom Rosemary Soup. The day before Earth Day, the Shanti Kitchen fire roasted Canadian tomatoes on the grill and canned them. The next day we added garlic and shallots from Vicki's Veggies (Picton) as well as Ontario mushrooms, fresh rosemary, organic vegetable stock and Organic Meadows cream. According to the guests, this soup – served with the AIR element Herb Garden Biscuits with Garlic Butter- was the favorite dish of the night.
The Earth element was stuffed acorn squash with quinoa, kale and chickpeas and topped with roasted hazelnuts. The WATER element was a delicious mixed greens salad topped with red cabbage, cucumber, water chestnuts, blue cheese and orange slices tossed in a citrus vinaigrette.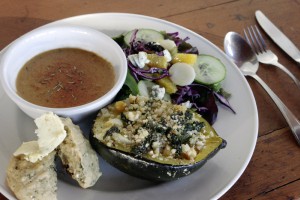 Now, let's not forget dessert (We saved the best for last). There's no better way to get connected with the earth than to enjoy some soil and dirt for dessert…okay well not exactly, but that's the look we were going for. Rosemary planted in Chocolate pudding and cookies. Check out the recipe below, you'll never believe it!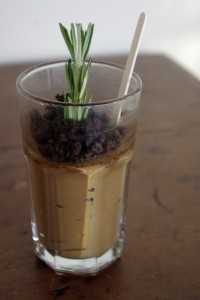 After digesting dinner, we made our way to the yurt for a candle light restorative yoga class that was led with the most appropriate music. The class focused on each element (air, water, fire, earth) and the associated chakras. It was an opportunity to open our hearts with the Air Chakra, Anahata, to ground down through our roots  with Earth Chakra, Muladhara, to awaken our digestive fire with Manipura Chakra and to flow with Water Chakra, Svadhisthana.
And we can't forget our last earth element…what's a celebration without a homemade center piece?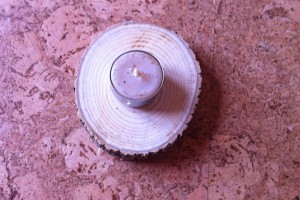 Decoration we used to table centerpiece and candle light yoga in the yurt.
Thank you to everyone who made Earth Day the great success it was. Thank you to Wendy and Darin for providing us with the great space, to Lacey and her kitchen team of Karma Yogis for preparing the delicious meal and for teaching the yoga class. Thank you Andrea for capturing this special evening and providing us with such beautiful photos.   We look forward to next year!
Earth Day Chocolate Pudding
1/4 cup almond butter
1/4 cup agave
1/2 cup water
1/8 cup cocoa powder
small pinch sea salt
1 medium avocado
1 tablespoon coconut oil (I used coconut butter)
1 teaspoon vanilla
Directions: Throw all ingredients into a food processor and process until smooth.
Inspired by the blog "Oh She Glows"