We are so blessed to have such beautiful souls crossing the Shanti grounds. This weekend we warmly welcomed back the lovely Lana Sugarman of Toronto for her offering of yin, flow and chant.
Through the weekend, we got to restore and relax by candlelight in the yurt with her yin yoga classes. Yin yoga is a rejuvenating, slower paced yoga with asanas, or poses, that are held for longer periods of time, thus targeting the connective tissues, the ligaments and bones and joints of the body, that are usually not exercised in a more active asana yoga practice. Lana also guided us through invigorating morning Jivamukti-inspired classes. Jivamukti is a physical and spiritual practice combining vigorous hatha and vinyasa based yoga, with adherence to the 5 central tenets: scripture, devotion, ahimsa or non-violence, meditation, and music.
On the final evening of her retreat, she lead one of her infamous kirtan gatherings in our Green Tara room, and was accompanied by our very own chef and drummer extraordinaire, Landon Chatterton. For some guests, this was their first experience with kirtan. Kirtan is a call-and-response style of chanting performed in the Bhakti, or devotional, tradition. It is meant to allow us to get out of the mind and rest back in the heart, losing ourselves in the feeling of the music flowing through, as we sing meditative mantras to deities like Ganesh and Kali. In between "songs," you are encouraged to close your eyes and go within, to feel the resonance and the vibrations of the mantras sung out, instead of externalizing and clapping your hands. A musical meditation, this practice is.
Luckily, Lana will be back next month alongside Brenda McMorrow and Adam Bauer for our annual Bhakti and Yoga May Long Weekend Celebration running May 20-23. Have a look at our Retreat Lineup to learn more, and be sure to share the Facebook Event with your friends and family too!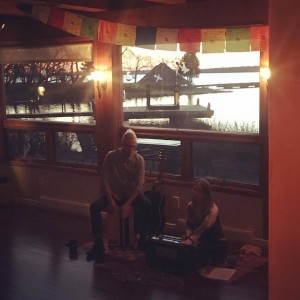 Chefs Landon and Mike are back at it again in our Shanti kitchen, about to serve batches upon batches of the fluffiest French toasts ever, alongside our sweet Maple Pecan granola, and plates of sliced watermelons for all. The weather has been incredible all weekend, considering it was snowing when we first arrived. I think Spring is officially here. Ahhh….
Namaste,
Shanti Retreat