This weekend, the beautiful and wholesome Maria Carr returned for another visit from Port Perry Flowyoga with a family of friends with beautiful offerings. Her long time friend Shirley came again alongside for her annual Saturday evening sage circle, and "Kala on Fire" came over again from Kingston to share the gift of movement meditation on Saturday afternoon in our yurt. This group, like last weekend's, gave themselves the gift of taking in the documentary Awake: The Life of Yogananda on Friday evening after our delicious and infamous black bean and quinoa burgers, perfected over the seasons by Chef Landon, with so much guacamole – leftover guacamole?!? When does this ever happen!?!
We were blessed with beautiful weather, especially so on Saturday, and it was so nice to see everyone out using the chairs overlooking Brown's Bay, reading and lounging and really taking in the energy of retreat. Many guests, I noticed, took time alone, even if they came with a friend or family member, to really connect – with themselves, with their book, with their practice, with nature. A beautiful reminder, this is, to carve out time for ourselves as the sweetness and softness of spring slowly turns into the sometimes business of the summer. It's magical to see so many people come through Shanti who have this commitment to going deeper in their lives, to committing to wellness, to living a holistic life, to bringing in Spirit each day.
And, with Spring comes new installments at Shanti…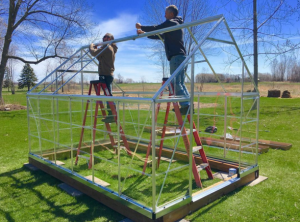 …a gorgeous new green house for the soon-to-be kale and cucumbers and tomatoes and sprouts and….
a new landscaping installation including several native tree species, blueberries, and high bush cranberries!
Spring is here! Stay sweet!
Warmly,
The Shanti Family