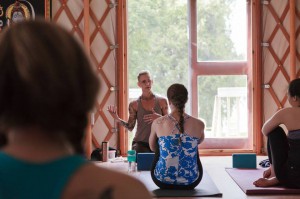 This past weekend marks dallas delahunt's 10th consecutive year of retreats at Shanti. The beautiful (and fierce!) dallas from just across the ferry in Kingston has been celebrating all things yoga with us just after our first location in Prince Edward County came to be.
Guests love the flavour of her retreat offerings; you can always count on carefully crafted playlists in class (with lots of acoustic versions of well known songs), neat and playful workshops (arm balancing and headstands), and she never fails to bring along a bundle of goods for her guests. This time, we were all gifted hand made salty coconut lime body scrubs in miniature mason jars and oodles of home made chocolate covered almonds.
During dallas' retreats, you can expect to be totally pampered and catered to. All of her classes and all of its sequences, vinyasas and postures are made very clearly optional, as she invites her students to continuously check into the needs of their bodies time and time again. She always takes the desires of her students into consideration. She teaches to all shapes and all sizes, to every yogi with a will to jump on the mat, regardless of where they're at on their path and in their journey.
Yoga is for every-body. It's heart warming to know her studio in Kingston is just a ferry ride away. If you ever get the chance to roll through Kingston, be sure to make Studio 330 (330 Princess St) a priority. This unique community and warm space created by dallas is like no other you will find, truly, and we are lucky that she brings this vibe with her to the Island.
Many thanks, and much much much love to you, dallas. See you again in August!
By Andrew Burrows, Karma yogi extraordinaire at Shanti Retreat