The witty and charming Loren Crawford and his yogis from Ottawa just left the Island yesterday with big smiles on their faces after a Thursday to Sunday stay with us. Guests left feeling rested, rejuvenated, enlivened and informed, after a full weekend of practice and self-inquiry.  Throughout the weekend, Loren's offerings included meaningful discussions and lectures on tantra and ayurveda, and these teachings were beautifully interwoven into his asana classes in the yurt. Guests learned about how to practice and live in a way that respects their unique ayurvedic constitutions, as well as how to use aromatherapy and essential oils as medicine.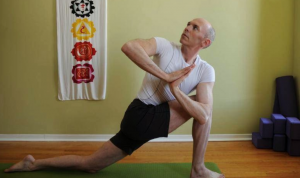 It is inspiring and also hopeful to witness how yoga in the west has continued to unfold; it is coming full circle, I feel. "A yoga retreat is a catalyst for healing and change," writes Loren. When yoga first arrived in the West, most of its roots made it here, for it was initially practiced in a way that closely resembled the sacred Eastern practice and way of life. As time went on, and as we have evolved into an appearance-focused, fitness-friendly, consumerist society, a lot of what yoga once was has dissolved. Yoga has become commercial, and a business, and something to invest in. But what a lot of practitioners in the West today are forgetting is the original flavour of yoga, the original investment: an investment in and a compassionate connection to the self, to the heart, to stillness. The word "yoga" comes from the Sanskrit root yuji, which means "to join" or "to yoke" – merging and uniting opposites into a sacred Oneness;  finding centeredness amidst polarities; sensing peace within chaos. Yoga is a conscious connection, and awareness is the secret of yoga. Loren's retreat this past weekend had a way of bringing Shanti guests back to the core of yoga, through the open and safe space for discussion and inquiry provided all weekend. It is warming to see and to feel the origins of yoga being reignited here in the West.
It was lovely to have Loren back on the Island again this season, and we look forward to having him back next season for further yogic investigation and inquiry.