Even with the publication of our new (and first!) cookbook, there is no way we could have included all of our favorite recipes. Good thing for the Shanti Whole Foods Living Blog! We will continuously be posting recipes that you love (which are not found in the cookbook), so stay tuned!
There is nothing like sharing the benefits of whole foods – especially when it's something sweet:)
Raw Vegan Lemon Bliss Balls (Makes about 15 balls)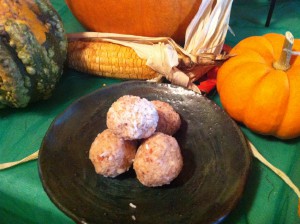 2 1/4 cups almonds
1/2 cup unsweetened shredded coconut
1 tsp sea salt
2 tbsp maple syrup
5 lemons (juiced)
3 tsp vanilla extract
1/2 cup coconut oil
coconut, raw sugar for rolling
Place almonds into a food processor and pulse into small pieces (not into a flour).
Add remaining ingredients and process until well combined.
Take out a spoonful at a time and roll into a ball shape.
Roll half the balls in coconut and the other half in raw sugar.
Refrigerate for at least 15 minutes.