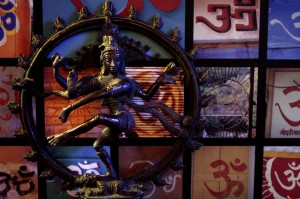 This weekend I had the chance to attend the Yoga Show and Conference in Toronto. One of the highlights of the weekend was the Yoga Trance Dance. This isn't really something that can be explained, but has to be experienced…and in order to experience it fully, I had to let go of any inhibitions,  judgements (of my myself or others) and even all of my thoughts.
Dancing, jumping, moving, stretching and flowing around in a room full of a hundred of people, high on life. Music On, Lights off. I couldn't believe it, but I must say, this was yoga! It was a sacred union of movement and breath-such an authentic movement with no focus or worry about form. Yoga Dance Trance invites the body to move in a way where we are truly listening to the body, to our intuition and embracing the natural flow.
This was such a different way of moving  prana through the body. Siva Rea, who began this movement 10 years ago, describes it as a high energy movement meditation to liberate your creative life force…a way to experience celebration, rejuvenation, and creative joy through movement.
Is there a better way to awaken the spirit and celebrate the Spring Equinox? Truly, this was a time of transformation and letting go of all that was no longer serving (not to mention the physical  benefits of 2 hours non-stop dancing)
What a journey! The initial softness in the music (and in the movement) feels like the gentle opening of a flower petal. Then, slowly transitioning with music of all styles (blues, jazz, tango, salsa, pop, drums, bollywood, rap –got to love MC yogi!) toward the complete blossoming of the flower – a feeling of an infinite source of light shining through my body. Finally, music for relaxation, chants and savasana as we took the musch needed rest and closing.
Together we all tapped into our own  individual creative source as we became united at the source.
This blog is by Lacey, Mid-week Yoga Instructor at Shanti Retreat
Fore more information about Yoga Trance dance visit www.sivarae.com