All of the members of our Shanti Retreat "family" love the idea of eating locally and seasonally. We are all aware of the many benefits for our health, our community and our beautiful, Divine Mother Earth.But…. do we love it enough to get our hands dirty and harvest it in this joyous "spring weather?" YOU BET!
Wednesday April 3 we enjoyed a true field to table experience after visiting Vicki's Veggies in Picton, Prince Edward County.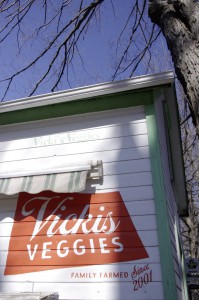 You must be wondering "how is it possible to harvest veggies after this long, never ending winter and cool, crisp spring?" Vicki's Veggies has the answer and they are truly so innovative when it comes to growing food. I could never explain the extent of their operations but what I do know is that I love the idea of the hoop house which allows them to successfully plant and grow their food much earlier (which allows us and Shanti Guests to also enjoy the bounty!)
I can't sugar coat our experience at all; it was super windy and really cold on the hands, but… we loved every minute of it! We especially appreciated our work when we got home and enjoyed a gigantic, delicious spinach salad!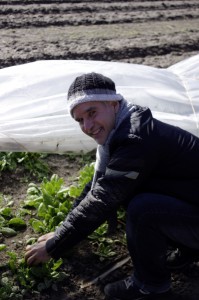 Darin harvesting spinach at Vicki's Veggies in Picton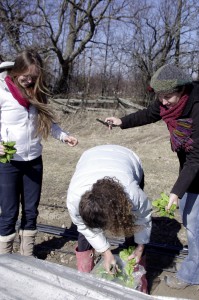 Lacey, Vicky & Wendy on a spinach mission…despite the strong winds
We also picked up some garlic, shallots and freshly harvested parsnip. Next, the Shanti Kitchen will make a rosemary -parsnip soup with a recipe recommended by Vicki which uses sap instead of stock (oh yes.. we are so lucky, Vicki tapped a tree for us and gave us a big bucket of sap and some dried rosemary for the soup…pictures to follow!)
Vicki's Veggies is located 65 miles from Shanti Retreat, Wolfe Island…and this we like! Vicki's Veggies is not "Certified Organic" but they use organic potting soil, buy mostly organic seeds (never treated or genetically engineered) and they don't use synthetic fertilizers, pesticides or herbicides…and this we like! However, they are "Certified Local Sustainable" which means they are dedicated to providing nutritious food and sustaining a healthy environement…AND THIS WE ALSO LIKE!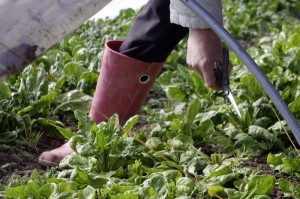 Thank you Vicki's Veggies for Shanti's first (of many more to come) Field to Table experience of our 2013 season!  We are looking forward to serving the Spinach for our Saturday Morning Brunch – baked eggs with spinach, salsa and goat cheese!