Turning your asana into your AH-HAsana! By Zak and Josie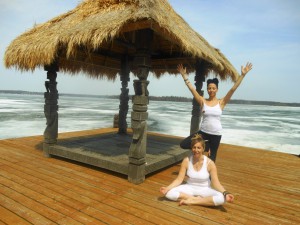 In Sanskrit an asana is defined as a body position or series of positions that are done in Meditation and moving asanas encompass coming into the pose, holding the pose and getting out of the pose.
During meditative asana, the position is held longer than in a moving asana.
Without the mind, body and spirit involvement an asana feels "just" and I emphasize "just" feels like an exercise. When we involve the spirit it becomes an awakening! What does it look like when our mind, body, spirit is connected through our asana? When we come into the pose or stretch it can feel easy, fresh and new or it can be uncomfortable in many different unsettling ways.
Why is this? As we hold the position, we allow time to be in stillness and we begin to delve into layers of different areas within ourselves, within our soul and our ego. When we learn to accept, we let go!
When we experience our AH HAsana it can be in the form of an old wound, an emotion or a realization. Whatever it is we are holding onto we awaken and we deal with it. Once we lift the veil we realize what is blocking us from acquiring our true bliss. When we rid of the dark, we allow light to radiate within us. This feeling may resonate when we come out of the pose until we decide to let it go. Once we fully let it go we are able to taste, to feel the sweetness of our true essence, our true self and we feel bliss!!
At our Blissalicious Retreats you will smile, laugh, sigh you may cry, and you will become more self-aware through yoga, qi gong and healing meditations, that will keep YOU feeling EMPOWERED, RELAXED and FILLED TO THE BRIM with BLISS!
Stay Blessed,
Josie & Zak
About the authors
The Yogi & The Meditator
Josie is passionate about guiding people into balance though natural means. She believes strongly in integrating mental, emotional, spiritual and physical realms in order to help clients achieve and maintain healthy and fulfilling lives. Josie loves the creative aspect of teaching and she brings a smile, positive spirit and insightful meaning to her classes. Through the use of Homeopathy, Yoga and Qi Gong.
Josie will help you regain and maintain balance!
Zak "zoe" touches the lives of everyone she meets through her healing hands and heart. Whether in a group meditation or one on one, Zak has this innate and magical ability to connect on such a deep level with others. She surrounds herself and her clients with the powerful energy of angels, archangels, ascended masters and elders. Each session is more flavorful than the last addressing mental, emotional and physical realms to help clients leave feeling rejuvenated, blessed, strong and grounded!