It has been a truly beautiful, flowing first retreat of our 2016 season. This year's Shanti family returned to the Island on Sunday, and since Monday morning at 10:00am, after a meeting and a consecration of the day and the season, we have been back at it and in harmony working together to get things up and running for the year to come.
We began with Darin's Friday evening yoga offering in the yurt, warmed like a nest, and then our infamous Shanti Energy Bowls from our Shanti at Home cookbook, featuring an abundance of oven roasted sweet potatoes,  beets and carrots from Okee's Farm on Wolfe Island, and a delicious lemon tahini sauce. Our head chef Landon graces the Shanti kitchen again this season, and presented us with a creamy carrot soup and Shanti "Summer" Beet Dip for lunch on Saturday, followed by a gluten free lasagna for dinner featuring spinach and ricotta, alongside an antipasto bar – olives, artichoke hearts and roasted red pepper slices – and a fresh green salad. He and our new sous chef from Ottawa, Mike, are back at it now in the kitchen preparing for our Sunday brunch offering – feta, tomato and pepper frittata, fruit salad, toast, and our scrumptious Maple Pecan Granola. We are truly blessed with this gift of sharing such nutritious food with this community of yogis that come, and keep coming, to Shanti from all over Ontario, and sometimes even beyond – far beyond, sometimes as far as Japan!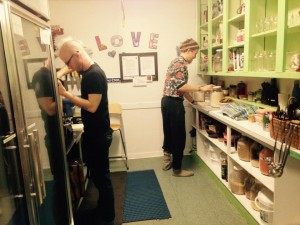 Head Chef Landon and Sous Chef Mike about to put out our first Friday Dinner of 2016…
Guests are now in their final morning yoga program with Wendy, who continues to offer beautifully the gift of gentle energy based hatha yoga, bringing guests softly back into the heart space, back into the witness, and back into love. Wendy and Darin shared their restorative yoga offering last night followed by a yoga nidra, right before slipping into bed for a warm night's rest.
A blessing, it is, to be back here on Wolfe Island, watching all of this beauty unfold before us. Be sure to take some time during these seasonal changes to listen for the birds, to feel the crisp breeze on your skin, to reach out and continue to love your loved ones.
Warmly,
Shanti Retreat