Bhujangasana –  Cobra pose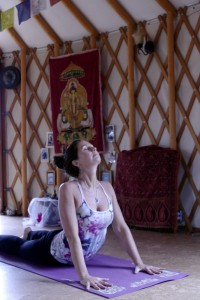 In Sanskrit bhujang means cobra and asana means pose, so this is the pose of the cobra or the cobra pose.
Energetically, this pose works on anahata, the heart chakra. Cosmic/Universal energy descends directly to the level of the heart
while Earth energy rises thru the legs and spine to this level of your being.
The yogis say it is a very balancing pose. Thus, whenever someone is psychologically imbalanced, they recommend performing bhujangasana; it is a wonderful asana for harmonizing and balancing the being.
Physiologically the pose also has many effects and benefits;
– brings increased flexibility to the spine
– by increasing the intra abdominal pressure it helps to relieve constipation and stimulate the liver, spleen, pancreas and gallbladder
– It has a beneficial effect on the kidneys
– for women,  it is a wonderful pose since it brings increased blood supply to the ovaries and uterus, and helps to regulate the menstrual
cycle
– in advanced performances, the pose also has the mild effect of arousing Kundalini shakti (that is sleeping dormant in muladhara
chakra).
You will also discover, that with repeated practice and when it is held for long periods of time,  it will generate a specific state of
mind. Not only do you start to  feel energy at the level of the heart chakra but a certain emotional state of mind or mood also appears.
Since bhujangasana is a pose which opens the heart, experience reveals that you feel a state of love. What are you in love with? An affective
mood without any object – a feeling of love towards everyone, and everything everywhere. There is an emotional mood of
unconditional/universal love.