WARRIOR II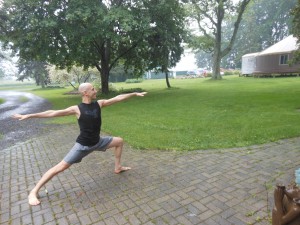 Th is pose is about grounding down and shining out. Warrior 2 is a powerful pose to increase strength and endurance in the body.
It builds fire and heat as you hold and go deeper. It is a wonderful opportunity to pause, slow down and connect with your gaze.
In your physical body the benefits include stronger arms and legs, open hips and chest, and a longer spine.
On a deeper level this pose is about presence, breath, and connection to yourself.
I love this pose because I can find a sense of expansion and freedom. Also the power I gain access to in stillness.
Tap into the Warrior in you with this pose – Virabhadrasana 2: Pose of the Warrior