Calling all chocolate lovers, consumers, enthusiasts and the like!
Is that you?
I sense yes?
Gather around…
Recently I had the privilege of cooking up a storm for our June Mid-Week Getaway guests – brunches and dinners and, oh yes, desserts as well. If you've visited Shanti, you probably look forward to our delicious vegetarian meals more than the yoga, am I right? Just teasing. But maybe not. In the kitchen one afternoon, I got my hands muddy with chocolatey goodness and whipped up a batch of these beautiful (and gluten free!) chocolate cherry brownies. The recipe called for raspberry, but we had some charming cherries on hand, so I got spontaneous and luxurious.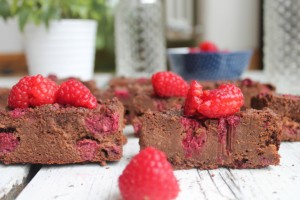 Ingredients:
2 1/2 cup of ground almond
1/2 cup of brown rice flour (I used quinoa flour)
2 tablespoon of melted coconut oil
3 tablespoon of coconut sugar
2 heaped tablespoon of raw cacao powder
3 tablespoon of date syrup (I used maple syrup)
1 cup of almond milk
75 gr of dark chocolate (I used vegan chocolate chips)
400 gr of fresh raspberries (I used frozen cherries)
Start by preheating the oven at 180 degrees Celsius.
Click here for instructions on how to put these beauties together. Pure decadence. Pure vegan and gluten free gorgeousness. Namaste.
At the end of our Mid-Week Getaway, I also had the privilege of hosting an event in the yurt on our grounds on the evening of June 23rd: Earth Medicine: Chocolate Movement Meditation. Incoming sacred Guatemalan cacao…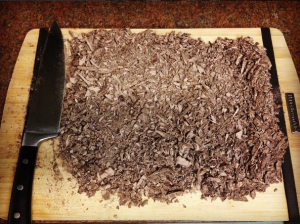 Let me paint you a picture…
We chopped up this 1 pound brick of pure, rich, organic and ceremonial cacao all the way from South America, dissolved it in a big pot of boiling water, flavoured with sea salt and maple syrup, and head straight to the yurt…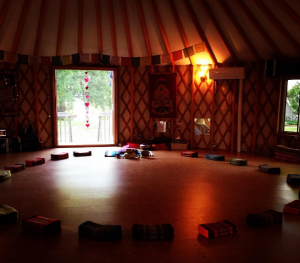 We begun in seated meditation with Monsoon Point playing in the background, and were guided gently into a receptive state to allow the sacred cacao medicine to work through us, encouraging her to work with us. We allowed the sweet vibrations of our Tibetan singing bowls to permeate our spirits and slowly, as we transitioned into a very earthy, tribal set of music, we opened up and let it all go…
Thirty or so of us got the chance to experience the magic of cacao in sacred and safe space, together in community, alongside some of the beautiful musical findings of DJ Liz Diaz of Conscious Dance Parties Toronto. People came from Kingston, from the Island, from Toronto, and as far as Ottawa for this ecstatic gathering, coming together to celebrate the summer solstice in the best ways possible – with dance, and with chocolate! Ah, the pleasures of Life… So sweet.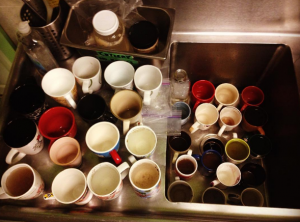 It was such incredible energy here at Shanti. It is a pleasure and a privilege to be here offering these gifts, these opportunities, for movement and for connection. Quickly after settling back after final relaxation, everyone began to inquire about the next gathering. Stay tuned for more information on this one, and check in with my website at http://subtlesubstance.tumblr.com/
Namaste, blessed ones, and hey, happy Canada Day to you! What are you grateful for?
Me?
Community.
Sharing.
The gifts of this country.
Clean water.
Fresh air.
Organic food.
Movement.
Stillness.
and Chocolate!