We all know that the more greens we eat the better.
We also know that organic non-GMO tofu is a great source of vegetable protein.
Now here is something you may not know (unless you were at Shanti Retreat last weekend for Marla Ericksen's Spring Retreat)…: Combining greens, of all kinds – we used kale, swiss chard and collards – with tofu and a spicy marinade is the best side dish ever!
Be sure to try it out at home and let us know how it turns out!!!
Spicy Sauteed Greens and Tofu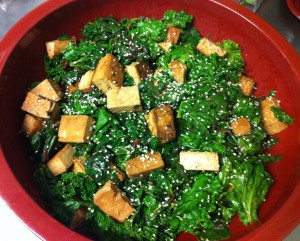 Makes 4-6 servings
One 1-pound block extra-firm tofu
3 tablespoons Tamari
2 tablespoons toasted sesame oil
1/2 teaspoon Sambal
3 tablespoons freshly squeezed lime juice
1 tablespoon grated ginger
2 pounds bitter greens, such as collard, mustard, baby bok choy, or dandelion, washed, trimmed, and torn into pieces
1 teaspoon sesame seeds, lightly toasted
1/4 teaspoon crushed red-pepper flakes
6 cloves garlic, thinly sliced
Prepare tofu (to absorb water). In a medium bowl, combine tamari; sesame oil; sambal; lime juice; ginger; and garlic. Set aside. Transfer tofu to medium bowl; toss with half the marinade; let sit for 30 minutes.
Heat a nonstick skillet over medium heat. Working in batches, arrange tofu in a single layer in pan. Cook until golden brown, about 2 minutes per side. Transfer to platter; repeat with remaining tofu. Gradually add greens to skillet with remaining marinade. Cook, tossing occasionally, until greens are wilted and most of the liquid has evaporated, 5 to 8 minutes. Transfer to platter with tofu. Sprinkle with sesame seeds and red pepper; serve.