This recipe is far too delicious & nutritious not to share with our readers… Shanti Sous Chef Mike recently whipped up four loaves of the best gluten free banana bread known to mankind for our guests (and staff!). This recipe was found in a new Shanti kitchen favourite by Alissa Segersten and Tom Malterre called The Whole Life Nutrition Cookbook: A Complete Nutritional and Cooking Guide for Healthy Living.

SPICED BANANA BREAD
Makes 1 loaf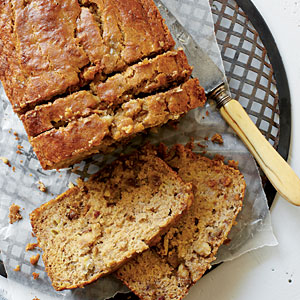 DRY INGREDIENTS
3/4 cup coconut flour
1/4 cup arrowroot powder (we used tapioca flour)
1/2 cup ground flaxseeds
2 tsp baking powder
1/2 tsp baking soda
1/2 tsp sea salt
1/2 tsp ground nutmeg
1/2 tsp ground cardamom
…and I would recommend pinches upon pinches of cinnamon, too!
WET INGREDIENTS
5 large organic eggs (veganize it by substituting with 5 flax eggs: 5 tbsp flaxseed + 25 tbsp water)
1 1/4 cups mashed ripe bananas (3 medium bananas)
1/4 cup melted virgin coconut oil (and more for greasing the pan)
1/4 cup pure maple syrup
INSTRUCTIONS FOR THE MAGIC…
1. Preheat the oven to 350 degrees Fahrenheit. Coat an 8.5 x 4.5-inch bread loaf pan with coconut oil.
2. In a medium mixing bowl, whisk together the dry ingredients. In another mixing bowl, beat together the wet ingredients with an electric mixer. Pour the wet ingredients into the dry and beat together.
3. Pour batter into prepared and greased pan and bake for approximately 50 minutes. Cool for about 20 minutes in the pan, then loosen the sides with a knife, and turn over onto a wire rack, allowing to cool completely.
Divide up some healthy slices, share with friends over tea, and even double, or shall I say triple the recipe to enjoy all week? Freeze a batch for next week? Delicious served with nut butter and good conversation!
Snack well, be well,
The Shanti Family