It's almost a guarantee that oatmeal raisin cookies will win over a crowd. They have this nostalgic quality to them and taste good, not matter your age.
The Shanti kitchen team prepares these cookies to sell as nutritious and delicious snacks during afternoon free time. This past weekend, Shanti's newest volunteer, Isabelle, suggested that we add lemon zest to the cookies…and let's just say there is no turning back.
We used cranberries in this batch, but feel free to stick to the classic raisin recipe or any dried fruit that you enjoy.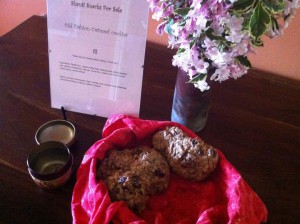 Ingredients
2.5 cups spelt flour
2 cups rolled oats
1 tsp bakin soda
1/2 tsp baking powder
1/2 tsp sea salt
1.5 cups dried raisins or cranberries
1/2 cup chopped walnuts (optional)
1/2 tsp cinnamon
1 cup coconut oil
1 cup maple syrup
1 tsp vanilla extract
1-2 tbsp lemon zest
Instructions
Preheat oven to 350 degrees F
Whisk together the flour, oats, baking soda and powder, and salt in a large bowl. Toss in dried fruit, nuts, and cinnamon.
Mix the coconut oil (room temperature), maple syrup, vanilla and lemon zest thoroughly in another bowl. Add the wet ingredients to the dry and mix just until all the flour has been absorbed.
Drop heaping tablespoons of dough onto a baking sheet. Bake for 13 minutes.
Enjoy out of the oven or allow to cool.
Makes 25 giant cookies, or more if smaller.
Inspired by Jae Steele, in Ripe from Around Here
By Lacey Budge