Spring has sprung…and yet summer is  not so far away either.
Sunshine & rain are good news for us here at Shanti, especially now that we have our very own green house and permaculture garden. At the moment our permaculture garden only has garlic, but our herb garden is doing quite well. We look forward to planting all of our seedlings for our veggies and edible flowers!
We are most excited for our seedlings which have all began to showcase themselves.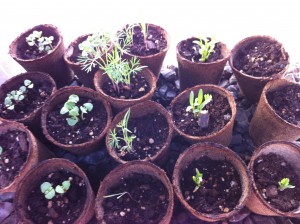 Speaking of excitement, we are so happy to be serving our local Wolfe Island Greens from Okee's Farm as of 2 weeks ago. The taste is incredible..not to mention the long lasting life of fresh greens vs. organic super market  greens (not our favorite).
We look forward to continue our relationship with Okee's Farm and to see what Jan (the most amazing farmer ever!) has in store for us this season( his tomatoes are to die for!!!)
We actually went over to the farm recently to check out the green house and visit all the seedlings- mainly because we love field trips, especially when they are food related.