Retreat to an Island Getaway! Wendy and Darin invite you to relax, rejuvenate and unwind at Shanti Retreat  located on beautiful Wolfe Island, near Kingston, the gateway to the Thousand Islands. To reach us, board the Wolfe Island Ferry conveniently located in the heart of downtown Kingston. It's a scenic 20 minute free car ferry ride to this island getaway.
The spacious century inn and cabins are located on a tranquil 11 acre property. There are sweeping views of the St. Lawrence and memorable sunsets from the outdoor dining patio.
Join us for either a Yoga Retreat Weekend, or a Mid-week Wellness Getaway. Delicious vegetarian meals are lovingly prepared in the Shanti kitchen.
Wolfe Island is an amazing place of natural beauty. By day, enjoy the country fresh air and commune with mother earth as you explore the island. It's a cycling and runner's paradise and there's also Big Sandy Bay, a beautiful secluded sand beach, only 15 minutes away by car. On clear evenings don't miss the opportunity to pause at the wonder of the country sky and stargaze. Savor the opportunity to nurture yourself by pausing from the ebb and flow of daily life.
No car, no problem. Call us to arrange a complimentary pick up once you're on the island. Click here for alternative travel options. We look forward to welcoming you to Shanti. Namaste, Wendy and Darin
---
Coming this Fall…
Thanksgiving Yoga & Meditation Retreat with Darin and Wendy October 9-11th
Savor the beauty of fall colors, and the flocks of migratory Canada Geese gathering in Brown's Bay. In the spirit of Thanksgiving we will take time throughout this weekend of yoga, meditation, silent morning walks and informal gatherings to contemplate Gratitude and encourage a 365 day practice.
Women's Weekend with Monika Nataraj: A special gathering in celebration of our boundless feminine potential  October 23-25th
Discover the secrets of tantra in a sacred circle of women on picturesque Wolfe Island. Rejuvenate, Refresh, and Renew. This unique weekend offering includes chakra yoga, mystical dance, women's Tantric teachings, an introduction to jade egg practices.
For more information about Shanti's 2015 retreat offerings please click on the Retreat Lineup icon.
Upcoming Retreats
Retreat to Italy with Darin and Wendy is full!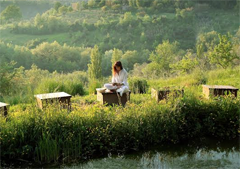 Journey into the Heart...in the Heart of Italy
November 2nd-9th, 2015
Come Experience La Dolce Vita in the heart of the stunning Sabina hills near Rome!

---
Shanti Cookbook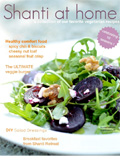 Shanti at Home is suitable for anyone who loves good food. Surprise family and friends with easy to follow vegetarian recipes that are innovative, nutritious, and did we say delicious?
Disclaimer: Use of this book may result in frequent episodes of appreciation and smiling through the eyes of the heart.
View Preview