The Inn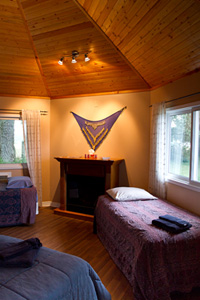 You'll feel at home in Shanti's spacious century inn and waterside cabins.
This beautiful property has stunning views of the St. Lawrence River and sunsets from the waterfront patio are memorable. The inn's timbered ceilings and wood stove provide a natural country charm. It's the perfect setting to curl up with a book, relax by the woodstove, and connect with kindred spirits. Enjoy the ambiance of peace and tranquility that the Asian décor and sacred spaces exude.
Relax in the comfort, warmth, and coziness of guest rooms decorated in themes inspired by our travels and connection with matters of the spirit. As a retreat center, we offer shared accommodation with either a water or garden view, all with private bathrooms.
Guests can also choose to savour the relaxing and detoxifying benefits of the infrared sauna.
Commune with mother earth on this waterfront property and enjoy watching the wildlife that lives waterside. You may even be blessed by a visit from our resident heron. Connect with the majesty of the maples, oaks, weeping willows, and extensive gardens that surround us. In summer, we invite you to take a dip in the bay, bounce on the water tramp or go for a paddle in a canoe or kayak. You can also hang out in a hammock, spend time under the Balinese hut, do a walking meditation in the labyrinth, or choose your favorite spot to retreat along this secluded shoreline.
Shanti's amenities include a wellness tea bar, infrared sauna, canoe, kayaks, fire pit, water trampoline, hammocks, meditation garden, walking and cycling routes. For those who do need to stay connected there is wifi.
Bike rental is available in Marysville village. Please contact Wolfe Island Bike Rental at 613-385-2240.