Retreat to an Island Getaway! Wendy and Darin invite you to relax, rejuvenate and unwind at Shanti Retreat  located on beautiful Wolfe Island, near Kingston, the gateway to the Thousand Islands. To reach us, board the Wolfe Island Ferry conveniently located in the heart of downtown Kingston. It's a scenic 20 minute free car ferry ride to this island sanctuary.
The spacious century inn and cabins are located on a tranquil 11 acre property. There are sweeping views of the St. Lawrence and memorable sunsets from the outdoor dining patio.
Join us for either a Weekend or Mid-Week Yoga Retreat.  Delicious vegetarian meals are lovingly prepared in the Shanti kitchen.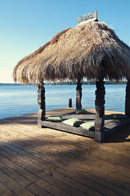 Wolfe Island is an amazing place of natural beauty. By day, enjoy the country fresh air and commune with mother earth as you explore the island. It's a cycling and runner's paradise and there's also Big Sandy Bay, a beautiful secluded sand beach, only 15 minutes away by car. On clear evenings don't miss the opportunity to pause at the wonder of the country sky and stargaze. Savor the opportunity to nurture and nourish yourself by pausing from the ebb and flow of daily life.
No car, no problem – walking on the ferry is an option. Arrange with us, in advance, to have a complimentary pick up from the Island's village of Marysville. Click here for alternative travel options.
We look forward to welcoming you to Shanti.
Namaste,
Darin, Wendy and the Shanti Team
---
Some of our upcoming retreat offerings …
Awakening Devotion & Heart Wisdom: A Mid-Week with Brenda McMorrow | July 23 – 26th 
Join Brenda McMorrow for a very special mid-week retreat sharing nourishing practices that encourage our true beings to shine! We will deepen into what we truly are beyond our everyday thoughts and ideas through guided meditations;  self-inquiry exercises; healing mantra practices and joyful Kirtan (call and response) singing; body and soul awakening Yoga asana; and enlivening group sharing and teachings inspired by the Bhakti (Devotion) and Jnana (Wisdom) Yoga traditions.
Shanti's 4 Day Silent Yoga & Meditation Retreat with Darin & Wendy | August 20th – 23rd 
Give yourself the gift of retreating in silence and join Darin and Wendy, co-creators of Shanti, for 4 days of diving within. This offering is an opportunity to go beyond the mental chatter of the mind and connect with the Stillness – the Presence – that lies at the level of our Spiritual Heart. Silent Retreats are a beautiful practice of mental hygiene; cleansing the subconscious mind. The practice of shifting attention from the mind to the Stillness of the heart brings depth – connecting us with the sacred dimension of our being, and anchoring life in a place of increased peace, joy, love, and Freedom.