Yoga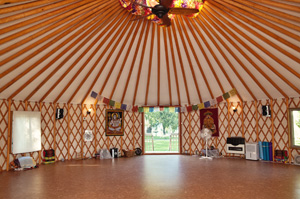 During a Shanti Yoga Retreat weekend, Darin and Wendy will share a hatha and slow flow yoga practice where the focus is on body awareness, breath, energy (chakras) and the Stillness that lies within.
Hatha yoga is a physical discipline valued for its wonderful health and fitness benefits as well as stress reduction. Yet, more than just an exercise system, it is an ancient holistic system of health and self-development that begins with the body as a tangible way to affect not only the physical but energetic, emotional, mental and spiritual aspects of our being as well.
These weekends are suitable to all those drawn to learning more about the path of spiritual growth, and the revelation of their true nature. No previous experience required.
The Yoga Studios
There are two year round yoga spaces at Shanti. Our primary yoga studio is the 800 square foot yoga yurt featuring cork flooring, and a natural lodge pole pine interior. Experience the special energy created by this round structure.
Inside the main inn you will experience the pleasure of practicing in the Green Tara room, a beautiful timbered ceiling space with plenty of natural light and a sweeping water view.