Meals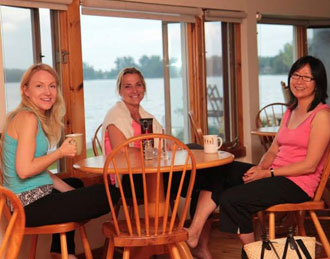 Your body and soul will be nourished with Shanti's delicious and nutritious meals. With the utmost love and respect for animals and the earth, vegetarian meals are served. We strive to offer locally grown, Wolfe Island organic produce whenever possible and each year serve more and more from our very own Shanti garden.
Journey into the world of vegetarian food with culinary delights that will leave you totally satisfied. All meals, prepared and served with mindfulness and infused with Love, are a feast for the eyes and a delight to your taste buds.
Organic, shade grown, dark roast coffee is served in the morning and a variety of herbal, green and black teas are available throughout the day.
Shanti can accommodate a vegan, gluten free and dairy free diet. As our kitchen team is very small we are no longer able to accommodate specific dietary requests and food allergies, including nuts. Please do let us know in advance if you need a simple meal prepared for you (a whole grain and steamed vegetables). Of course, if you do have a severe, life threatening reaction to specific foods or nuts then it is absolutely necessary to inform Shanti ahead of time (2 weeks prior to retreat start date).
Meal times and Sample Menu
Meal times may vary according to the instructor's retreat schedule.  Shanti's signature brunch will continue to be served on Sundays (or the last day of retreat) at 10:45 am.
Breakfast (7:30-8:30am) 


Whole grain and gluten free bread served with all organic butter, natural peanut butter and jam (option to toast)




Organic yogurt served with Shanti's Maple Pecan Granola, shredded coconut and cranberries


Oatmeal and gluten free cereal with your choice of organic dairy or almond milk
Cinnamon, brown sugar, flaxseed, hemp seeds, and chia seeds
Seasonal fruit (apples, pears, bananas, nectarines, etc)
Orange juice, tea and coffee

Sample Lunch (12:00-1:00pm)
Vegan cashew "cream" of broccoli soup
Seasonal vegetable platter
Home made garden pesto with gluten free crackers
Warm potato, corn and dill salad
Aged cheddar and goat's cheese plate with fresh cherries
Wolfe Island Greens served with cucumbers, cherry tomatoes and sunflower seeds served with extra virgin olive oil and balsamic vinegarSample Dinner (6:30-7:30pm)
Moroccan vegetable and chickpea stew served over brown basmati rice
Baba ganoush and grilled pita bread
Sauteed Shanti garden greens (kale, swiss chard, beet greens)
Wolfe Island Greens salad with cucumbers and tossed with Shanti House Dressing
Dessert: Shanti Superfood Truffles