Apple Cinnamon Millet Muffins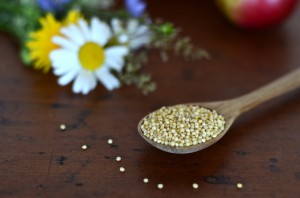 2 cups spelt flour
2/3 cup millet
2 tsp baking powder
1 tsp baking soda
1⁄2 tsp sea salt
1 cup non-dairy milk
1/2 cup apple sauce
1/2 cup maple syrup
1/3 cup coconut oil
1 tsp vanilla extract
1 1/2 cups fruit*
*We love the flavors of baked apples,  but you can also use berries, or peaches, fresh or frozen , but not thawed
PREHEAT oven to 375° F. Line 12 muffin cups with a light coating of oil.
WHISK together flour, millet, baking powder, baking soda and sea salt in a large bowl.
IN A SEPARATE BOWL, add milk, applesauce, sweetener, oil and vanilla.
COMBINE the wet ingredients with the dry just until flour has been absorbed. Gently fold in the baked apples.
DIVIDE batter among prepared muffin cups and bake for 25 minutes.
TRANSFER muffins to a wire cooling rack.
Makes 12 muffins
Baked Apples
PREHEAT oven to 350° F .
DICE and core apples into 1 inch cubes
PLACE apples in a baking dish with coconut oil, cinnamon, and a dash of brown sugar or maple syrup.
BAKE for 30 minutes.