It's the end of May, and here at Shanti Retreat we are all feeling so lucky to already be enjoying the herb garden, as well as some harvest from the permaculture beds. Often times, herbs are only used as garnish (if at all) and their high nutrient profile is forgotten about. However, we definitely  recognize their nutritious and healing properties and have been infusing as many of our meals as possible with these superfoods.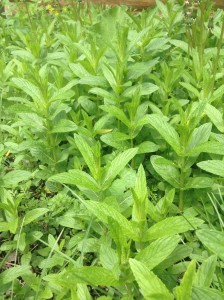 Since some herbs start to come up early spring, it can be an exciting time and the first taste of organic, seasonal, home grown food! Herbs can be used in a variety of ways and contain high amounts of important vitamins, minerals and antioxidants to improve digestion, protect against cancer, boost mood and reduce inflammation, to name a few.
Today we present to you – mint, parsley and sage. Below you can read about the health benefits of each herb, as well as the different ways we have been included them in retreat meals.
Benefits of Mint
Promotes digestion
Relieves Nausea
Fights fatigue (try diffusing peppermint essential oil to boost mood and energy levels)
Relieves headaches
Cleanses palate, improves oral care
Clears congestion, helps asthma
…ways we have been using mint:
Homemade herbal tea
Yogurt Dips like Greek tzatziki  (with lots of garlic and lemon!) or Indian raita
Fruit salad topper
Mango and pistachio salsa (for enchilada night)
Fennel and apple salad
Benefits of Parsley
Parsley, often used as a garnish, is an under appreciated superfood full of many healing properties!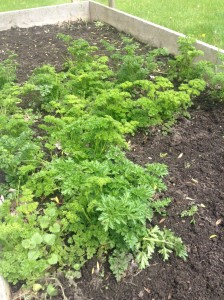 Extremely high in vitamin K which is important for bone healthy
A rich source of immune boosting antioxidants, mainly  vitamin C and A
Kidney cleanser
Anti aging / anti – inflammatory
High in iron
…ways to have been using parsley:
Greek salad and quinoa tabouleh
Herbed yogurt dip
Herb garden hummus
Minestrone soup

Benefits of Sage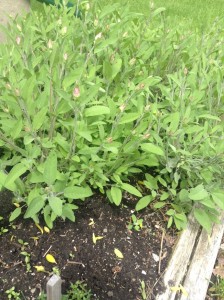 Sage is another super herb which has been used medicinally and spiritually for thousands of years.
Promotes healthy digestive system
Reduces depression
Relieves asthma
Improves memory and alertness
Eases menopausal symptoms, especially hot flashes
Lowers inflammation
High in antioxidants
Strengthens bones
….ways we have been using sage
Creamy cashew,garlic and sage sauce (for buddha bowls)
Sage cornbead (with veggie chili!)
Rustic cheese and nut loaf
Homemade herbal tea with slices of fresh ginger root.
…Written by Lacey Budge, Shanti Retreat Coordinator and Registered Holistic Nutritionist