Press
Elle Canada Online: 5 Canadian yoga retreats to try now (September 2016) by Carli Whitwell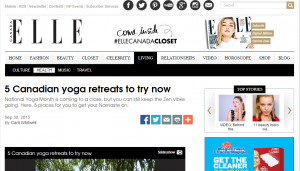 Shanti Retreat:
If you're not up for a full-on vacation, Shanti Retreat, located on 11-acres on picturesque Wolfe Island near Kingston, ON, also offers one-day getaways.
---
Wander, Live Well Travel Well Magazine : featured Shanti Retreat in Yoga Retreats: Reconnect with Mind, Body, and Spirit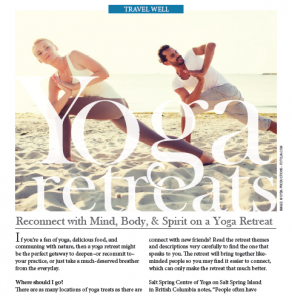 Excerpt from the article (August 2015):
Wendy and Darin, co-owners of Shanti Retreat on
Wolfe Island, Ontario, give this advice: "Come with
an open mind and heart. Give yourself the gift of a
retreat weekend getaway. Your body, mind and soul
will be nurtured and nourished. Lovingly prepared
meals, yoga, meditation, spending time in nature,
and connecting with kindred spirits are all part of the
experience. All scheduled activities are optional; be
guided from within, it's your retreat!"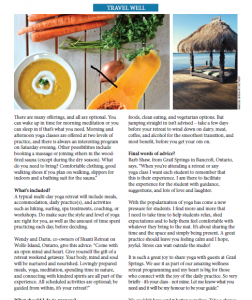 Click here for the full article and publication of Wander magazine…(worth the read if you like to travel, and enjoy good food and adventure!)
---
VacationIdea Dream Vacation Magazine (online) featured Shanti Retreat in the article:
22 Best Yoga & Wellness Retreats Around the World (July 21, 2015)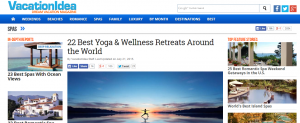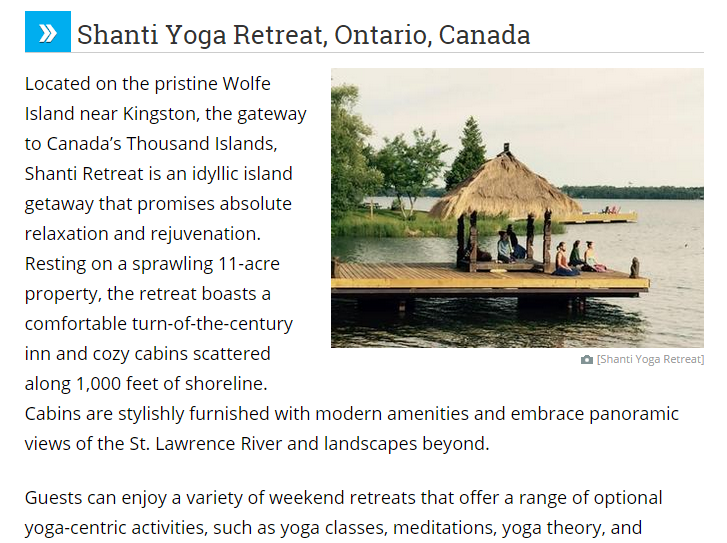 ---
Sweat Equity Magazine featured Shanti Retreat in the article: Book A Trip to Bliss: 5 Fave Yoga Retreats Worldwide  in their February/March 2015.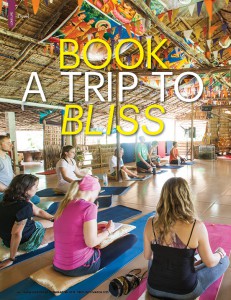 Sweat Equity is the ONLY Canadian publication dedicated to yoga, fitness, lifestyle, food and YOU- the teachers, trainers, gyms, studios, restaurants and fitness lovers that make our community tick.
---
Montreal Natural Living: Communing with Mother Earth: Shanti Retreat, Wolfe Island (October 2013)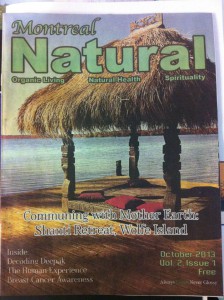 Click here to view the PDF version of  the October edition Montreal Natural October 2013 Issue #1
Cover Story: A glimpse Inside Shanti Retreat p. 14 – 15/19
Naturally Delicious Recipes: Shanti Coconut Squash Soup  p.20 & Shanti Maple Pecan Granola p.21
---
Kingstonist: Shanti Retreat is Wolfe Islands best kept secret
(October 2013)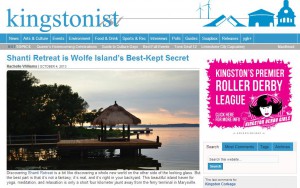 ---
Kingston this Week: Tastes and Aromas of Shanti Retreat
(September 2013)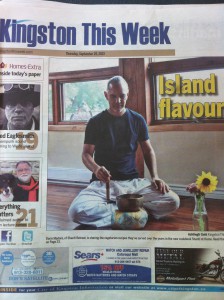 ---
Shanti is featured on World Web.com Travel Guide as one of the top 10 retreat centers in Canada.
SHANTI YOGA RETREAT: WOLFE ISLAND, ON
For many, getting in touch with their true nature is best assisted within nature. Far from the madding crowd,Shanti Yoga Retreat is situated amidst trees and hugging the coastline on Wolfe Island. Just three hours from Toronto, it is far from the busyness of the city on an 11-acre property in Prince Edward County. Guests can enjoy the waterside location at weekend retreats that offer yoga classes, yoga theory, afternoon meditations, evening satsang, vegetarian meals, and the space and time to enjoy nature. For those who simply need time alone for reflection, they are invited to come and just be, as programs are optional.
Themed retreats also occur throughout the year, such as Yoga for Runners, Yoga and Chi Gong, and Kripalu Yoga. And Thai yoga massage is available for an additional fee with any stay at Shanti Yoga Retreat.
---
 Best Yoga Retreats and Eco Travel by Yogi
Read about a guests personal experience at Shanti
"I had the pleasure of visiting Shanti Yoga Retreat this spring, located on beautiful Wolfe Island, near Kingston, Ontario, Canada.
Before even reaching Shanti the busyness of life began to melt away as I boarded the scenic 20 minute free car ferry ride to this island getaway.
I began my stay relaxing by the waterside and enjoyed the peace and tranquility of the countryside at this lovely country inn…" keep reading