Homepage – Shanti At Home Text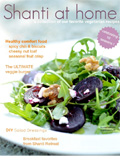 Shanti at Home is suitable for anyone who loves good food. Surprise family and friends with easy to follow vegetarian recipes that are innovative, nutritious, and did we say delicious?
Disclaimer: Use of this book may result in frequent episodes of appreciation and smiling through the eyes of the heart.