International Retreats
---
Unveiling Presence in Portugal
8 Day Yoga & Meditation Retreat with Darin and Wendy
Monte Orada Retreat Center
Odemira, Portugal
September 14th – 21st, 2018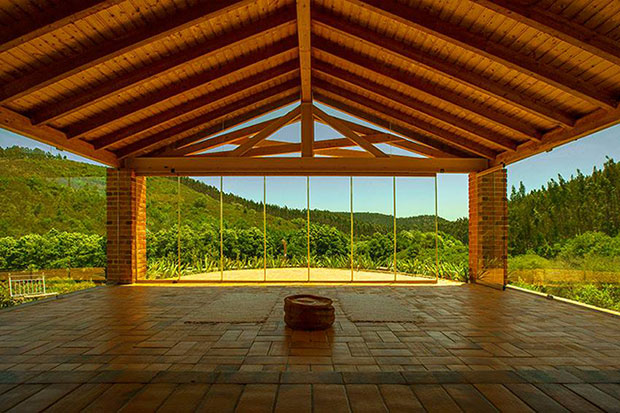 Journey with us on an 8 day Yoga and Meditation retreat at beautiful Monte Orada Retreat Center, located near Portugal's glorious Southwest Atlantic Coast. Nestled in a 71 hectare evergreen forest reserve, the property radiates silence. There are amazing canopy vistas, creek trails awaiting exploration, and spectacular starry night skies. This soul nurturing retreat center is the perfect location to completely switch off. Choose to relax by the bio pool, connect with stillness in the yoga and meditation temple, read a book in the panoramic solarium, watch the sunset from the rooftop terrace, or simply tune in to the sounds of nature. In the evenings, savor the serenity that surrounds us as you settle in for a deep sleep. The retreat will include a visit to Monte Sahaja, the ashram and home of modern day master Moojibaba, a day at pristine Odeceixe beach and quaint nearby village, a countryside hike in the surrounding pine and cork forest, an outdoor movie night in Monte Orada's natural amphitheatre, and a bonfire under the stars. Wendy and Darin, co-creators of Shanti Retreat, draw upon 25 years on the yogic path to offer a variety of heart centered yoga and meditation practices (suitable for all levels), which will support an awareness of your natural state of being. Monte Orada is the perfect setting for Unveiling Presence – letting go of the layers that mask our True Essence. Allow yourself the gift of retreating. Nurture and nourish body, mind and soul in the captivating gem of Alentejo Portugal. Commune with like minded beings and recognize the stillness that lies within – a place of great peace, love, joy, and freedom. We look forward to welcoming you.
---
Joy Of Being
10 Day Yoga & Meditation Retreat with Darin and Wendy
Samata Retreat Center
Goa, India
February 4th – 13th, 2019
MORE INFORMATION COMING SOON!
---
Previous International Retreats with Wendy and Darin
February 2017 – Moving into Being,  Samata Retreat Center, Goa, India
October 2015 and 2016 – Journey into the Heart, In Sabina Retreat Center, Sabine Foothills, Italy
February 2016 – Journey Through the Chakras, Mazunte, Mexico