About Retreats
Regularly scheduled retreats offered by Wendy and Darin provide guests with an opportunity to go beyond the mental chatter of the mind and connect with the Stillness – Presence –  that lies within.  A feeling of coming back home. This practice of shifting attention from the mind to the Stillness of the Heart brings depth; connecting us with the sacred dimension of our being, and anchoring life in a place of increased Peace, Joy, Love, and Freedom.
Disconnect from the "busyness" of life and give yourself the gift of a retreat at Shanti. Relax, reflect and restore waterside while enjoying the peace and tranquility of the countryside and our country inn. Find your sacred space.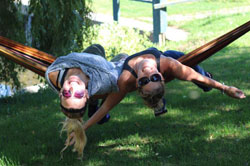 Shanti Yoga Retreats with Darin and Wendy 
Throughout the season, Darin and Wendy offer mid-week and weekend retreats with 3, 4 and 5 day stays.
Shared (3 -4 share), semi private (2 share) or camping accommodation
Delicious vegetarian meals served buffet style
Silent morning walk and walking meditation
Gentle hatha/slow flow yoga classes with an awareness of the body, breath, energy (chakras) and the Stillness of the heart (suitable for all levels)
Evening restorative yoga practice & yoga nidra (the yoga of deep relaxation);
Guided silent sittings/meditation
An infrared sauna session and the use of Shanti's amenities – wifi, wellness tea bar, infrared sauna, canoes, kayaks, hammocks, meditation garden, a labyrinth, walking and cycling routes.

 

You'll also have plenty of free time to nurture yourself with a book from our collection, take a walk in nature,  or simply do your own thing. All scheduled activities are optional; it's your retreat! Some retreats also include a special guest sharing an inspiring workshop, or musical performance.
Please see the Retreat Lineup for a list of retreats, detailed descriptions, schedules, and more.
---
Rates (per person) for Shanti's 2019 Retreats with Wendy and Darin 
Please see Retreat Lineup for retreat schedules
Spring Yoga & Meditation Retreat | April 26th – 28th
Shared   $415 + hst | Semi Private  $465 + hst
May Long Weekend Yoga & Meditation Retreat | May 17th-19th
Shared   $415 + hst | Semi Private  $465 + hst
4 Day Canada Day Long Weekend Yoga & Meditation Retreat | June 28th – July 1st
Shared   $590 + hst | Semi Private  $640 + hst | Shanti Tent $565 + hst | Personal Tent $540 + hst
Mid-Week Summer Yoga & Meditation Retreat | July 16th – 18th
Shared   $415 + hst | Semi Private  $465 + hst | Shanti Tent $390 + hst | Personal Tent $365 + hst
5 Day August Long Weekend Yoga & Meditation Retreat | August 1st – 5th
Shared   $765 + hst | Semi Private  $815 + hst | Shanti Tent $740 + hst Personal Tent $715 + hst
4 Day Mid-Week Silent Yoga & Meditation Retreat |August 12th – 15th
Shared   $590 + hst | Semi Private  $640 + hst | Shanti Tent $565 + hst | Personal Tent $540 + hst
4 Day Labor Day Long Weekend Retreat with optional Conscious Cooking |
August 30th – September 2nd
Shared   $590 + hst | Semi Private  $640 + hst | Shanti Tent $565+ hst | Personal Tent $540 + hst
Sunday afternoon departure – above rates less $150 plus hst
Optional Add On:
2 Workshops + 1 Food Demo with Registered Holistic Culinary Nutritionist Lacey Budge $30 + hst
Thanksgiving Yoga & Meditation Retreat | October 11th – 13th
Shared   $415 + hst | Semi Private  $465 + hst
Fall Yoga & Meditation Retreat | November 1st – 3rd
Shared   $415 + hst | Semi Private  $465 + hst