About Retreats
Regularly scheduled retreats offered by Wendy and Darin provide guests with an opportunity to go beyond the mental chatter of the mind and connect with the Stillness – Presence –  that lies within. A feeling of coming back home. This practice of shifting attention from the mind to the Stillness of the heart brings depth; connecting us with the sacred dimension of our being, and anchoring life in a place of increased Peace, Joy, Love, and Freedom.
Disconnect from the "busyness" of life and give yourself the gift of a retreat at Shanti. Relax, reflect and unfold waterside while enjoying the peace and tranquility of the countryside and our country inn. Find your sacred space.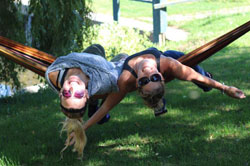 Shanti Yoga Retreats with Darin and Wendy 
Throughout the season, Darin and Wendy offer mid-week and weekend retreats with 3, 4 and 5 day stays.
Guest Instructor Retreats
There are also retreats held by visiting guest instructors throughout the year. Please contact them directly according to their listing on the Retreat Lineup page for information about their offering.
Group Rentals/Guest Instructors
Shanti is available for groups/guest instructors who wish to offer a mid-week, weekend, or week-long retreat. It's the perfect venue for yoga and meditation retreats, healers, artists, musicians, support groups, as well as corporate events.