First bike ride of the year…and wow, did it feel amazing. As the snow melts and the days get longer, it's so hard to stay inside. I think it's natural for us to want to get outside and explore after being indoors all winter. It's so important for our body and mind, to spend as much time as we can getting fresh air and sunshine (Hello Vitamin D…although I was biking as the sun was setting, I was taking in every ray I could!).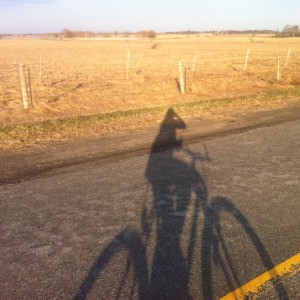 Get outside! Go for a walk, a bike ride, spend time in your garden or just sit outside…you will feel refreshed and more present. Do yourself a favor and keep the music and headphones at home. Use this time outdoors as a meditation. You don't need to be sitting cross-legged in order to meditate. Just become more aware, present and still. You can do this by counting your breath and becoming fully aware of the sensations that you feel with each inhale and exhale as you walk or pedal.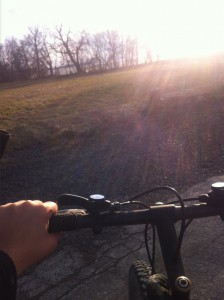 You could also become aware of all the sounds around, really listen to the sound of the birds or the trees cracking…feel the the wind on your face and hands, and take it all in. Smell the scents that come with Spring, this time of transformation and revitalization.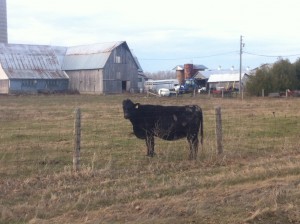 In this case….you may not want to take in ALL the smells..or actually … maybe you do, become present with everything as it is, without trying to change the situation (I mean, nature is perfect).
Without getting too distracted, take in the scenery and stay present…you will never know what you may see… Look an owl!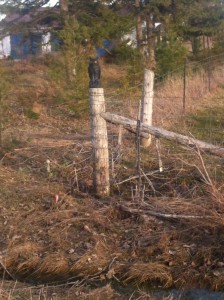 Ok you got me, it's not real, but at least I was mindful enough to notice it..right?
With Spring officially here (going by the weather, not the calendar), there is so much to see, smell and feel when we are spending time in nature. Being outside automatically lifts the spirit and this bike ride sure did inspire me. I never went out with the intention of taking a bike ride so I could  blog about it, but it just felt so amazing and rejuvenating that I wanted to share and inspire people to get outside and get moving…that's why we were given this physical body! Try to create a mind-body experience by bringing your meditation outdoors and truly feeling the connection, the oneness,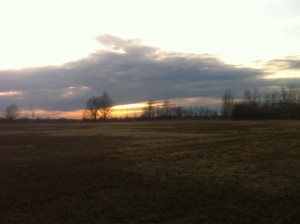 About the Author
Lacey is a Registered Holistic Nutritionist, Yoga instructor and manager at Shanti Retreat, located on beautiful Wolfe Island. She loves being outdoors, spending time in nature, exploring the island by bike… and taking in the rays of the sun! Being outside inspires her and allows her to feel more connected with the Universal Energy that surrounds us all.