Gomukhasana – go is the cow, and mukha is mouth or face, so this is the cow face, or the cow mouth posture. The mouth of the cow is also sometimes called the muzzle, so you can also call it the posture of the cow muzzle.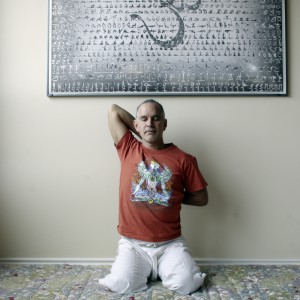 Effects and Benefits
Gomukhasana is a posture which activates the polarity of anahata chakra, and performing it will allow you to balance the heart chakra by working on its two (yin/yang – lunar/solar) aspects. When you work with anahata you are working with the energy of unconditional love, devotion, kindness, compassion, some aesthetic feelings, the sense of touch and you also have the energies of the air element.
From a physiological standpoint, gomukhasana has some specialized physiological effects. One of the most outstanding physiological effects of gomukhasana — is that it is very beneficial in healing lung diseases. It is perhaps the best asana in Yoga for healing diseases such as tuberculosis and asthma. The physiological principle is that when you perform gomukhasana first on the left side – the right lung almost stops working while the left lung is forced to work twice as hard and the opposite is true. Forcing the lungs to work in this way results in a purifying and a balancing of the lungs. This brings increased oxygen and prana to the lungs and also removes unused, stagnant air that is often lingering in the lower lobes of the lungs. Also because gomukhasana energizes the area of the heart then automatically physical healing in this area of the body is also promoted.
There are many other beneficial effects. To name just a few; there are many benefits associated with the legs and feet due to the vajrasana component. It opens the chest and increases flexibility in the upper back, and has considerable effects on the digestive system (also b/c of vajrasana component). As well, the shoulders benefit greatly from the performance of this pose – energizing and increasing flexibility in this area of the body. Since the shoulder is one of the most elaborate joints in the body and most susceptible to problems, this is a wonderful preventive asana.