Fall has been a wonderful time for Shanti's kitchen team.  Thanks to the continuous abundance of the garden, we have been preparing many delicious seasonal dishes. We are always looking for new recipes for inspiration and then making it our own (adding love and awareness to each recipe).
This time of year we are harvesting pumpkins, butternut squash, tomatoes, red peppers and some fresh herbs. We are also using garlic from our garden as well as mixed greens, spinach, Swiss chard, leeks and onions from the local organic farmer at Okee's Farms, Wolfe Island.
Below we have included the links to some of the recipes we have tried and served so far this Fall. We will continue to update and let you know how they turn out.
Chickpea & Butternut Squash Coconut Curry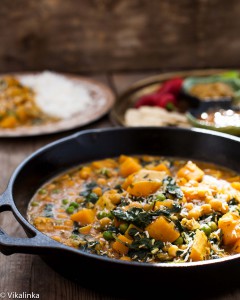 This recipe was delicious and we served it with brown Basmati rice, salad, cucumber-mint raita and the avocado chutney recipe found in our cookbook, Shanti at Home. Order a copy!
Butternut squash with whole wheat, wild rice and onion stuffing 
As a special treat for our Thanksgiving menu, we will be preparing this festive butternut squash dish from vegkitchen.com