Ahhh… We are still riding the waves, still in the bhav from this past weekend's bhakti celebration. Music, chanting, yoga, dancing, meditation, inspiring workshops, and delightful and vegetarian meals upon meals.
Bhav
bhāv or bhāva – भाव
Spiritual feeling (1) or attitude (2); devotion (3); the religious attitude of immersing oneself in the thought of God. (4)
According to Swami Kriyananda, the term "bhav" has multiple levels of meaning. It is the way one views God, and also the way one views oneself in relation to God. One can view God as wisdom, as love, or as a particular deity. Each of these is a type of bhav. (4)
For example:
"When [Paramhansa Yogananda] was in the bhav, or attitude, of wisdom, he was like a Himalayan yogi in a cave."
—Swami Kriyananda, A Handbook on Discipleship
Every piece of this weekend was truly memorable and heartfelt. The morning meditations and hatha yoga practices, the scrumptious brunches, the movement meditation in the yurt, the afternoon free time to enjoy the property, the breeze, the sun, the water, the dinners from the heart, and the kirtan! Jai Ma, Jai Ma, Jai Ma… Out of the head and right into the Heart…
What is Kirtan, you ask?
Krishna Das writes… "A practice like chanting [kirtan] gradually bestows on us the ability to let go of pain in our hearts."
Jai Uttal writes… "Whether kirtan is sung, screamed, or cried, it's all praise."
Rumi writes… "With every breath, I plant the seeds of devotion. I am a farmer of the heart."
and my new found favourite understanding of kirtan, Sean Johnson writes… "Kirtan is a form of purification and liberation. The mantras sensitize us, polish away the clutter in our heads and melt the numbness in our hearts, so we feel clear, awake, and brilliantly alive."
An afternoon celebration of kirtan in our Green Tara Room…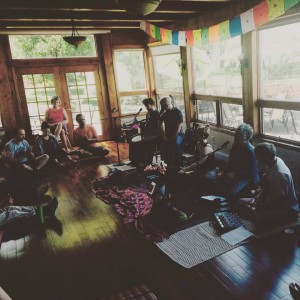 Lana Sugarman, Narada Wise, Chris Gartner…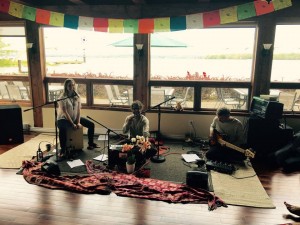 Evening kirtan with Brenda McMorrow…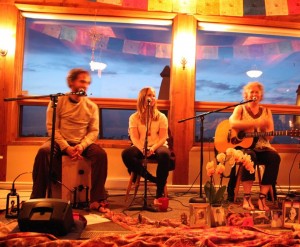 Bhakti Bliss…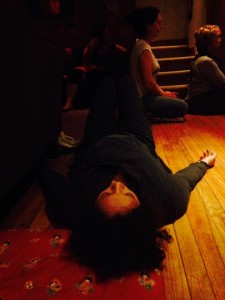 Love for All…
The altar, the devotion…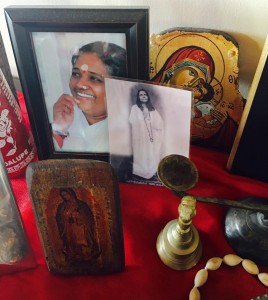 Mr. Gartner in the Light…
From left to right, Shanti's Head Chef Landon Chatteron, co-creators Darin and Wendy Madore, and kirtan artists Brenda McMorrow, Adam Bauer, Chris Gartner, Lana Sugarman, and Narada Wise. Namaste.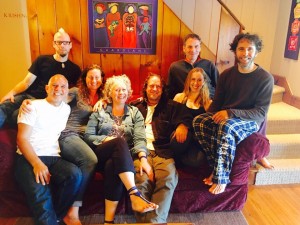 Do you want in on next year's Bhakti and Yoga Celebration? Stay tuned for our 2017 Retreat Lineup. Keep your August long weekend open and spacious for this offering in the making! To be continued…