Get harvesting! You know your bellies are calling for some Brussels. Though commonly unpopular among kids, you and yours will absolutely love them in this perfect and wholesome autumnal dish.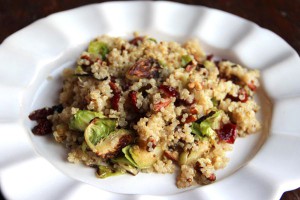 From www.recipebuild.com
Yield: Serves 4 – 6          Prep Time: 15 mins         Cook Time: 20 mins
Ingredients:
12 Ounces Brussels Sprouts, Trimmed and Quartered
1 Tablespoon Extra Virgin Olive Oil
Freshly Ground Salt and Pepper
2 Cups Water
1 Cup Dry Quinoa
½ Cup Chopped Pecans, Toasted
½ Cup Dried Cranberries, Chopped
Maple Dressing:
1-1/2 Tablespoons Maple Syrup
2 Cloves Garlic, Minced Finely
1 Tablespoon Grainy Dijon Mustard
1 Tablespoon Extra Virgin Olive Oil
1 Tablespoon Apple Cider Vinegar
Salt and Pepper
Directions:
Preheat the oven to 400 degrees F.
Line a baking sheet with foil and spread the Brussels sprouts on it.
Drizzle with the olive oil and salt and pepper and toss to gently coat.
Roast in the preheated oven for 20 minutes, until browned and tender.
Toss once during the roasting time.
While the brussels sprouts are roasting, bring the water to a boil in a medium saucepan.
Add the quinoa, reduce the heat to simmer, and cover.
Cook the quinoa for about 15 minutes and remove from the heat.
Let the quinoa sit for a few minutes then fluff with a fork.
In a small container with a lid or a canning jar (my favorite for mixing dressings), add all dressing ingredients.
Tighten lid on and shake well.
In a large bowl place the quinoa, Brussels sprouts, cranberries and pecans in.
Give the dressing one quick shake again and add while gently tossing to coat well.
Serve warm or at room temperature.
If your children grew up on raisins, substitute the cranberries for a couple handfuls of raisins. This is an incredible and complete dish for all to enjoy. For an additional oompf, toast up the pecans (or walnuts, for added creaminess) on the stove, perhaps with a dash of sea salt or brown sugar if you're feelin' it! This dressing is to die for, too. You could go all out and even try it with some real Canadian maple syrup tapped right from your parents' trees or from your nearest sugar shack. Spend a day at the shack all bundled up and come home to unwind warmly to this beautiful dinner for the family. If you don't already, you will soon love the Brussels.