A very moving weekend was had by all this past weekend at Shanti. Angela Jervis-Read of Toronto joined us for her second season at Shanti and brought with her the beautiful offering and gift of yin yoga. Yin yoga is a slower paced style of yoga with asanas held for longer periods of time. Its teaching in the west was found by the martial arts expert and Taoist yoga teacher Paulie Zink, who has definitely contributed to allowing for a more relaxed and nourished society through this practice. Yin poses apply only moderate stress to the body's connective tissues, tendons, fascia and ligaments, with the intention of increasing the circulation of the joints and increasing flexibility.
Yin is described as "a more meditative approach to yoga. [Yin] aims at cultivating awareness of inner silence, and bringing to light a universal, interconnecting quality," and is intended "not as a complete practice in itself, but rather as a complement to more active forms of yoga and exercise – yang."
Appropriately, the weekend was rather rainy, a beautiful symbol of yin, allowing guests to surrender entirely into yin; the feminine, more passive, more curious side of Life, allowing emotions and feelings to arise up to the surface and to wash away with the rain's river. Mother Nature always has a way with arranging herself, giving us all what best serves us, moment by moment. She knows.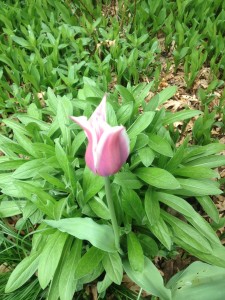 In from the rain, guests helped us out with our labyrinth project by painting a rock to contribute. An inspired set of 11 or 12 yoginis from the group painted the afternoon away over good conversation, relaxation, tea, and a slice of the best gluten free banana bread that I think I've ever tasted. Stay tuned for this recipe…
A relaxing and rainy Sunday afternoon, here we are, another retreat has come and gone, flown in and flown out. Thank you to Angela and all of your guests for your receptivity through this weekend to the gift of yin. I am truly yin'spired.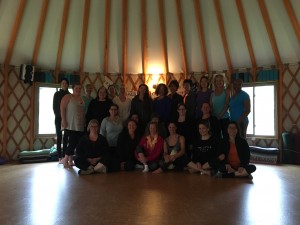 Look for Angela back at Shanti the same weekend next year, and also for a mid-week retreat in the Autumn.
P.S. If you haven't practiced yin yoga with Kim Eng's DVD Presence Through Movement: Yin Yoga, I highly suggest you to allow her yin to inspire and change and mold your yin. We sell it here at the Shanti Boutique for $27.50+HST.
Warmly,
The Shanti Family