Late summer sees an abundance of many delicious offerings from nature. Most notably guests at Shanti have been enjoying eggplant parmesan prepared with tomatoes, basil and garlic from our own organic permaculture garden and eggplants and onions from Wolfe Island's Okee's farm.
This classic Italian comfort food will keep you warm as we head into fall.
Ingredients
15 roma tomatoes
2 large eggplants
3 white onions
4 cloves of garlic
Handful of fresh basil
Handful of fresh rosemary and thyme
Splash red wine vinegar
1 cup spelt flour
3 organic free range eggs, beaten
3 cups breadcrumbs, we like to use spelt
2 cups fresh Parmesan
Extra Virgin Olive Oil
salt
pepper
Instructions
Preheat the oven to 375 o. Halve 15 Roma tomatoes, drizzle with olive oil, salt and pepper and roast for 30 minutes.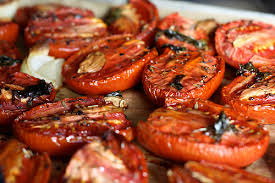 Cut two large eggplants into ½ inch thick disks, rub with salt and leave to rest in a colander. This draws the water out of the vegetable and will prevent the eggplant becoming soggy during cooking.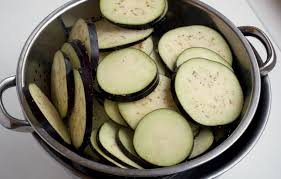 To prepare the tomato sauce, start by sautéing 3 chopped onions with a generous handful of chopped rosemary and thyme in olive oil. When the onions have softened, add in 4 cloves of crushed garlic. Add a splash of red wine vinegar and your roasted tomatoes straight out of the oven. Leave to simmer on a low heat and season as necessary.
Meanwhile prepare 3 dishes for coating the eggplant. Flour (gluten free flours such as buckwheat work just as well), 3 beaten eggs and finally a bowl of breadcrumbs. Pat each eggplant disk dry with paper towel, coat first in flour, dip in egg, shaking off excess, and finally coating in breadcrumbs.
We like to bake the eggplant, instead of frying it as it is traditionally done at this step. These will be baked on 375o for around 30 minutes, until the breadcrumbs are golden and a knife can easily pierce the centre of the eggplant. It is best to flip the slices over half way through baking to evenly cook them.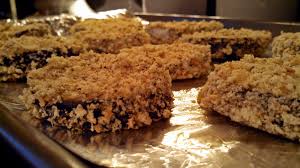 While the eggplants are baking the sauce can be taken off the heat and blended.
Grate 2 cups of fresh parmesan (mozzarella will also work well) and tear up a handful of basil leaves.
Remove the baked eggplants from the oven. Cover the bottom of a 9×13'' pan with sauce, some basil and then layer eggplant and cheese on top.
Finish with a covering of sauce and return to the oven to bake for around 20 minutes until the cheese has melted.
Enjoy with roasted vegetables or a lightly dressed salad and share with loved ones.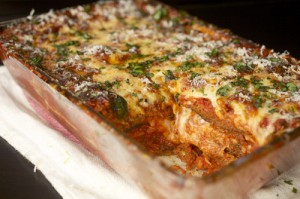 We ate it up so fast that there was no time for step by step photos, but we will be sure to capture it next time!
By Sheran Owens, Shanti Cook 2015 season