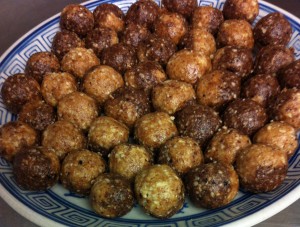 1.5 cups almonds
1 tbsp + 1 tsp carob powder
1. In a food processor, place almonds and process until finely ground.
2. Add the tahini, honey and vanilla; process thoroughly.
3. Place 1/2 the mixture into a glass baking dish or pie plate and press down flat to 1/4 inch thickness (don't worry about filling the dish)
4. Combine remaining mixture with carob powder and process.
5. Press the carob mixture on top of the plain mixture and press together to make a 1/2 inch two-coloured slab.
6. Chill halvah in the refrigerator for 1 hour or more, then cut into bite size pieces and toll into little balls. yields 20-24 pieces.
Nomi Shannon, The Raw Gourmet