For the last month, we have been eating everything zucchini, thanks to our amazing garden for providing such an abundance. Zucchini season is slowing down, and now we are delighted to have been gifted with many many pumpkins. They are so perfect (nature is great at that!) and the Shanti kitchen is enjoying finding new and delicious pumpkin inspired recipes.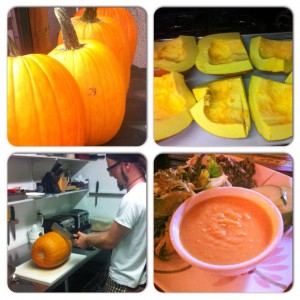 Pumpkin Peanut Soup
Ingredients
4 cups vegetable broth
1 tsp Thai red curry paste
2 tbsp extra virgin olive oil
1 tbsp fresh ginger root, grated
1 tbsp garlic, chopped
1 onion, diced
2/3 cup natural peanut butter
2 cups fresh pumpkin puree
1 cup coconut milk
salt and pepper, to taste
Directions
Over medium heat, combine oil with onions, garlic and ginger in a soup pot. Sautee for about 5 minutes.
Add curry paste and combine well.
Add vegetable stock, peanut butter, pumpkin puree and coconut milk. Simmer for 20 minutes. Add salt and pepper.
Pumpkin Chocolate Chip Cookies
This past weekend, we also made pumpkin chocolate chip cookies inspired from the recipe on the website two peas and their pod. We substituted the whole wheat flour for Gluten-Free flour and used fresh pureed pumpkin from our garden.
We also made our favorite pumpkin spiced hotcakes. Recipe can be found on our blog.